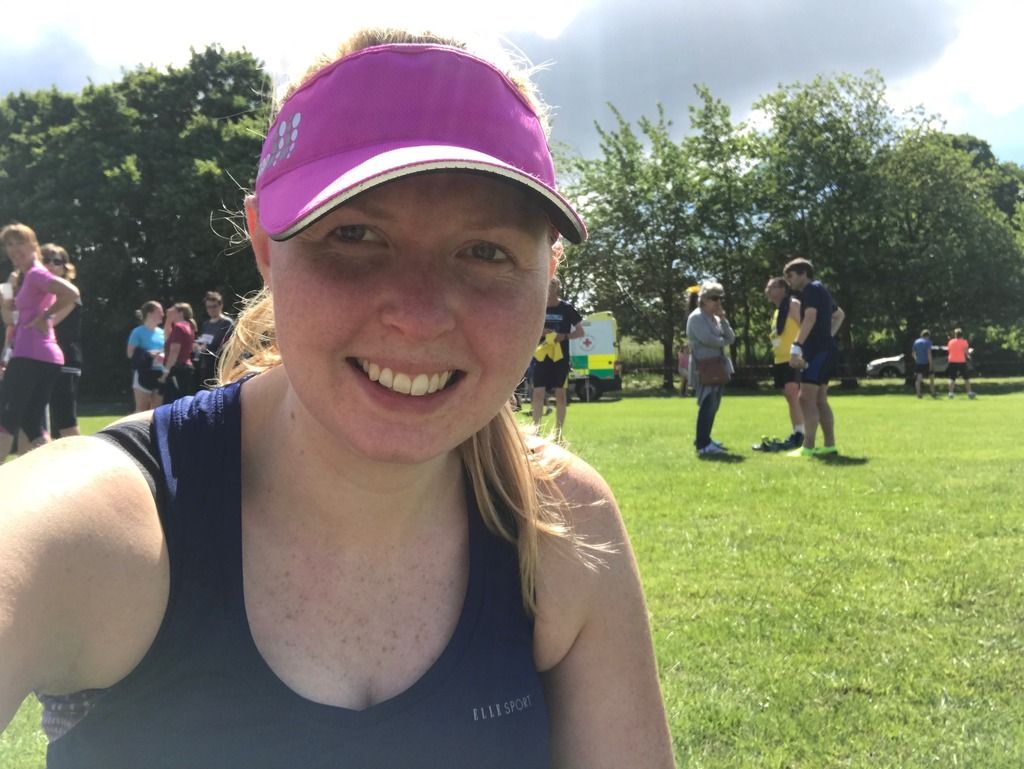 On Sunday I ran my first race of 2017, the Dorking Almost 10. I had originally signed up for the Dorking 10, thinking it would be a great next step after completing the longer distance running course with my run club, which took me up to 9 miles. However, after a week's holiday of all-inclusive, and waking up with a very sore heel, I decided to drop down to the shorter distance.
Despite Dorking and Mole Valley AC running the Dorking 10 for many years, this was the first year they decided to hold a shorter distance race at the same time, and I'm glad I was there for it! They decided to call it the 'Dorking Almost 10' because the distance wasn't quite 10K, in fact I tracked it as 5.8 miles on my Nike app. I believe next year they are hoping to make the distance exactly 10k, which would appeal to more I suppose.
After getting back from holiday on the Saturday I was up at 7am on Sunday morning to have my morning bagel and make my way over to Brockham, the race start. Luckily for me Brockham is only about a 15 minute drive from where I live, so by the time I'd got ready and faffed and eaten my bagel I still made it to the start for 8am.
Parking was brilliant, there was plenty of space as we parked on the field for Dorking Rugby Club, a benefit for doing more local races! I walked over to the Rugby Clubhouse and asked if I could swap down to the shorter distance. The volunteers and marshals there couldn't have been more helpful and friendly, it was completely painless, no questions asked.
As I looked around I noticed that almost everyone else was wearing their club vests and I felt a bit out of place wearing my Elle Sport vest from TKMaxx about 3 years ago! I sat in the corner and caught up on the terrible events from London the night before, waiting for the time to get nearer to 9am, the start time for the 10 mile race. Whilst I was sat on my phone I think the chairman of the club came up to me, asked me if I had done the race before, asked a little about me and wished me luck. I thought that was such a friendly touch, he seemed to be going round chatting to everyone. That put my mind at ease somewhat, as I walked down to Brockham green and the start line.

Brockham green is famous for the bonfire they do each year, and I've only been there on bonfire night so it was strange to see it in daylight! It's a beautiful, typically Surrey village, little green with a couple of pubs and a little village shop.
There seemed to be about 300+ runners doing the Dorking 10, and I watched them as they all set off at 9am. The weather was already pretty bright and warm, reinforcing how glad I was to drop down to the shorter distance! Around 9.30ish they set off the Dorking Almost 10 runners. There were about 40 of us in total, and it felt so strange to be part of such a small race!


The course was beautiful. Running through countryside lanes, and despite not being on closed roads there were very few cars. We ran with fields, beautiful houses and lovely looking pubs on each side of us for the whole course. However the course was pretty undulating with a couple of tough hills, and I'm pleased I didn't stop to walk once.
After a couple of miles we joined up with the Dorking 10 runners, who I think must have to do two laps. I was grateful for this as it meant there were a few more chatty runners around me, especially at around 8 miles when they laughed at how desperate I sounded when I asked if the next water stop did beer or even cider (the stop was at a pub!).
I ran the whole course 'naked' which was strange for me. And by 'naked' I mean – without a GPS watch. My Garmin broke back in Feb/March time and I haven't replaced it yet so I've been using the Nike app instead. However I find the voice updates on the app annoying to everyone else around so I turned off the alerts, not knowing my pace or my distance. At the same time as being strange, it was also quite nice. I wasn't running for a set time or pace, I just ran without stopping and tried to keep up with the people in front of me.
The course ended back at Dorking Rugby Club where we were greeted by whoops and cheers from the already finished runners supporting those still running from their clubs. The finish area was well organised, where I got a lovely technical finishers t-shirt and a very cold cup of water! There weren't any medals, which I missed a bit, but got over it pretty quick! I did think they could have offered a banana at the finish though. It was a long course and a hot day for everyone out there.
I'll definitely be back next year to do the race again. It's so easy to get to, fantastic organisation, inexpensive, lovely friendly marshals, and beautiful scenery. What's not to love?