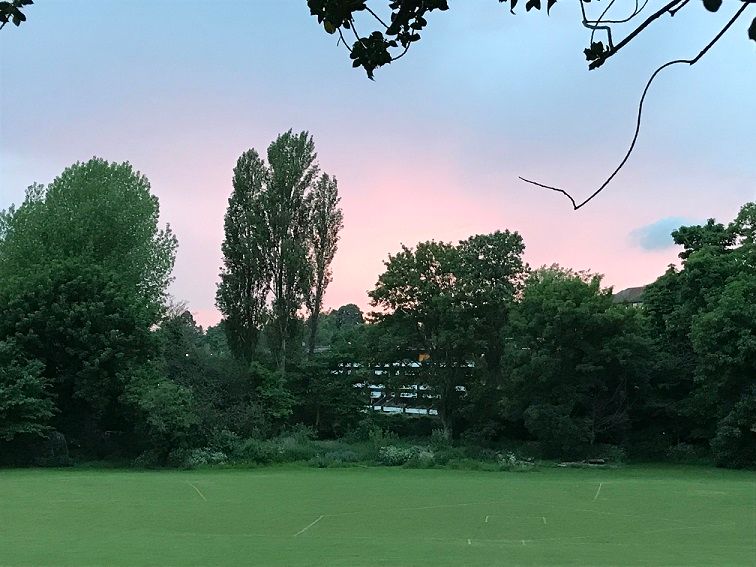 Stopping to take a sunset photo last week!
So after mentioning it in my new years resolutions and my Project Emma blogs, I have finally joined a local running club! In fact, it's actually a club I had previously dismissed – an all ladies club!
The reason I joined this club in particular is because not only had I been recommended by a good friend, but they also offered a long distance course. So far I've been on one general run and four runs from my long distance course.
The long distance course has been exactly what I needed to get me out of my running funk. Each week we've been building up the distance by a mile a week, starting at five miles. Later tonight we'll conquer nine miles. I can honestly say I'd never run nine miles mid-week on my own, and I'd struggle to run nine miles solo at the weekend right now. It has been great getting out with local women and making a few friends. Every week we've gone on a route I've never been on before. To prove my point about getting out of my funk – I went for an hour's run on Saturday whilst waiting for my MOT! I would not have done that a few weeks ago!!
Not only has the course made me realise I should make the time and effort to get out for a bit longer in the evenings, it's also helped push me. I know that if I was on my own I would never do some of these sort of distances without lots of stopping and walking breaks. I'm hoping that as all the ladies are faster than me it will also help me get a bit faster too.
Tonight's run is the last one in the course I've signed up for. After I get back from my holiday I'm planning on joining the club for one run a week before they start another long-long distance course later in the summer. And that will be perfect timing for…
…some of the races I've signed up for! Since joining the club and rediscovering my running mojo I've signed up for a few races and I'm really looking forward to them. I've got a 10 mile run in June (the day after I get back from holiday, potentially an error!), a road 10K, an off-road 10K and the Great North Run! Did I mention I got into the ballot that race? I'm also planning on registering for a couple more races including my local one – Reigate half.
So I think it's fair to say, after several months off, running Emma is back!